Discover more from A Hopeless Cynic
Things probably won't get better.
We Don't Have Time For This
In 2016, I was skeptical of Bernie Sanders. I liked his policy ideas in theory but I thought it was unlikely they would pass, which would bolster the GOP's argument that Democrats can't get anything done and lead to a Republican president in 2020. If they did pass, I reasoned, it would have to be by brute legislative force (i.e., with a Democrat-controlled House and Senate); the GOP would spend the rest of his term calling him a dictator-in-waiting, and we'd end up with a Republican president in 2020.
I was also unconvinced that voters would respond to Bernie's so-called "radical" policy ideas, even though those policies are what most other developed nations in the world would describe as "the bare minimum." I thought the things Bernie wanted—Medicare For All, ending student loan debt, housing for all, a federal jobs guarantee, and so on—looked great on paper but were unattainable. To that end, I assumed that if I, a Pragmatic Politics Man, felt this way, then surely most voters did as well.
The safer choice, I believed, was Hillary Clinton, whose overarching platform was "Staying The Course" with a dash of "Incremental Change": the previous 8 years under Obama seemed to have worked out pretty well for everybody, so why rock the boat? It wasn't a particularly inspiring message, but it seemed like enough to win a general election. That, I believed, was most important, especially considering the murderer's row of Republican ghouls fighting for their party's nomination at the time.
Once Hillary clinched the nomination, I noticed a lot of pissed-off Bernie supporters. They were right to be angry, but I chalked it up to what I assumed was their political naïvete. That's politics, baby. And when Donald Trump became the Republican nominee, I thought these Bernie supporters would fall in line. A case could be made that Bernie got screwed by the DNC, but I figured it was too late to do anything about it. Bernie did his job by moving Hillary to the left on a lot of issues; he'd fought the good fight, but the fight was over. It was time to come together.
I knew that Hillary wasn't an inspiring candidate. But given the alternative and what was at stake, I thought she was just good enough to pull out a victory—assuming, of course, that a majority of Bernie's die-hard supporters sucked it up and did the right thing by voting for Hillary. To do otherwise, I believed, was the height of immaturity, a temper tantrum thrown by those who would be least likely to suffer under a Trump presidency. As it turned out, the overwhelming majority of Bernie supporters did the right thing: a Pew Research poll in July 2016 found that 85% of Bernie Sanders supporters intended to vote for Hillary in the general election.
Hillary lost anyway. Not (as she's claimed at various opportunities) because of Bernie Sanders, or because women voted based on how men told them to, or because of James Comey's FBI letter. Hillary lost because she was historically unpopular and because she underestimated the appeal of Donald Trump. In fact, Hillary's campaign had actively sought to elevate Trump as a legitimate presidential candidate because they believed he would be easiest to beat. Hillary lost because she expected to win, and she campaigned like it.
Yet despite all the damage caused by the Trump administration in the last three-plus years, in the long run, it's probably for the best that Hillary lost.
If Hillary had won, we would have spent at least four more years laboring under the delusion that America is doing a good job of taking care of its citizens. Four more years pretending that the ACA is the best way to provide healthcare. Four more years of moderate, incremental reforms, with the opposition fighting tooth and nail every step of the way. Four more years of massive income inequality under a capitalist system that condemns people to a life of poverty before they're even born. Four more years believing that the climate crisis can be solved by anything less than immediate and historically unprecedented action. Four more years assuming that the only way to improve everyone's lives is by negotiating with the same people holding those lives hostage to find an acceptable middle ground. And worst of all, four more years pretending that the Democratic establishment exists to serve any goal beyond maintaining its grip on power.
Electing our first woman president would have been a historically significant event, but a Hillary victory in 2016 would have continued to muffle a sound that, thanks to Trump, is louder than ever: the death rattle of the American empire as we know it. These past four years will come to define American history, either as the period in which it all fell apart for good, or as the catalyst that led to something better.
The outcome is entirely up to us. Which brings me to the Democratic primary.
---
When I started writing this, the Democratic field had 8 candidates. In the last 72 hours, three of those eight—Pete Buttigieg, Amy Klobuchar and Tom Steyer— dropped out, leaving five candidates. Two of those five (Elizabeth Warren and Tulsi Gabbard) have little to no chance of securing the nomination, which means it's effectively a three-man race between Bernie Sanders, Joe Biden and Mike Bloomberg.
Mike Bloomberg appears to have joined the fray solely to throw the primaries into chaos: he has yet to introduce anything resembling a concrete policy idea, choosing instead to focus on paying people to cheer for him and boast that he's more of a billionaire than Donald Trump, as if the numerous atrocities committed under the Trump administration are the result of the man at the top not being rich enough. Beyond that, Bloomberg's only official stances are that he's not Bernie Sanders and also that you not ask him about his long and storied history of sexual harassment. Or stop-and-frisk.
Bloomberg doesn't appear to want to be president all that badly; rather, his candidacy suggests that he just really doesn't want Bernie Sanders to win and is willing to play caretaker for the next four years in order to prevent that from happening.
Joe Biden, on the other hand, desperately wants to be president. His 1988 bid was damaged when he, ahem, "borrowed" significant chunks of a speech made by British Labour MP Neil Kinnock earlier in the year, then derailed entirely when it was reported that Biden had been punished for plagiarism in law school. His 2008 campaign didn't flame out quite as spectacularly but was instead marred by tepid support in comparison to other Democratic contenders, including eventual president Barack Obama.
It is possible that Biden learned from his mistakes; however, any lessons he might have drawn from his 1988 and 2008 campaigns appear to have been lost to the darkest recesses of his mind. Biden has a history of offering clumsy or inarticulate answers to questions, but he's seemed increasingly lost and/or confused on the campaign trail this go around, leading some to speculate that he might be suffering from some sort of dementia-related cognitive decline:
Biden has also referred to Barack Obama as "Raprock" and, today, called the Declaration of Independence "you know, the thing":
Then there was this response during a debate last September:
Social workers help parents deal with how to raise their children. It's not that they don't want to help, they don't know what to play the radio, make sure the television — excuse me, make sure you have the record player on at night, the — make sure that kids hear words, a kid coming from a very poor school — a very poor background will hear 4 million words fewer spoken by the time we get there.
Let's leave aside the fact that there is no proof for Biden's "4 million words" claim, and let's ignore the anachronistic suggestion that a record player (!) would close this gap. That's a verbatim transcript of Biden's response—it's clear he doesn't know what he's talking about, but what's more alarming is his inability to even make it sound good. Oh, and the subject under debate that prompted this response? Slavery and reparations.
Even if Biden's cognitive abilities aren't as diminished as they appear to be, his voting record over the course of his political career is unflattering at best. Biden has also attempted to rewrite history in such a way that he's always on the right side of it, lying repeatedly about his political positions over the years. For example, when Sanders went on the offensive about Biden's poor voting record on Social Security cuts, Biden insisted that he'd never proposed cuts:
In truth, Biden has supported cutting Social Security multiple times over the past 40 years. Then there's his stance on racial justice: in 1975, Biden called state-mandated school integration "the most racist concept you can come up with," advocated for "tough-on-crime" bills that created a system of mass incarceration, and fondly referred to his fellow senator, noted racist Strom Thurmond, as a "friend." During a fundraiser held by wealthy donors last June, Biden praised Georgia Senator and segregationist Herman Talmadge for his "civility" and joked that Talmadge "never called me 'boy'." And, most recently, we learned that Biden's story about getting arrested for trying to visit Nelson Mandela in South Africa was a lie.
Biden is similarly adrift on economic issues. Last June, during a high-priced fundraiser, Biden told a gathering of wealthy donors that "no one's standard of living will change, nothing would fundamentally change" if he were elected. This should not come as a surprise: Biden is a centrist at heart, and he's repeatedly made clear his willingness to find common ground with Republicans.
Biden also receives a lot of credit for healthcare policies, primarily due to the fact that he was Vice President when the Affordable Care Act passed in 2010. Yet Biden's voting record tells another story: in 2000, when Bernie Sanders authored and passed an amendment in the House to reimpose the "reasonable pricing" rule on pharmaceutical companies to prevent price gouging. A similar bill, authored by Paul Wellstone (D-MN) was introduced in the Senate; Biden voted to table the bill, effectively killing it. Biden's proposed healthcare plan has been described as "SandersCare Lite," a watered-down version of Sanders' Medicare For All bill that introduces a public option but does not eliminate private insurers. (As I've noted before, any bill that is predicated on the continued existence of private insurance is doomed to fail.)
Finally, there's Elizabeth Warren. Warren is an important part of this primary, not because of her performance as a candidate, but because she represents the greatest threat to Bernie Sanders winning the Democratic nomination. Warren's campaign started promisingly enough: her ideas were largely simpatico with Sanders', and she was uniquely positioned to capture the support of people who, for one reason or another, didn't want to vote for Bernie. (This includes the #StillWithHer crowd whose support is all but assured as long as the candidate is 1) a woman or POC, and 2) isn't Bernie.)
Believe it or not, there was a time when I would have been happy with either Warren or Sanders. They both seemed to want the same things: implement a single-payer healthcare system, reduce (or eliminate) income inequality, tackle climate change in a meaningful way, lower student loan debt, and so on. But the differences between the two have only grown more stark as the primaries have heated up.
At some point, Warren must have realized two things: First, there was no room to Bernie's left, and second, unless Bernie dropped out, many of his supporters simply weren't interested in voting for her instead, which would leave her well short of the support she needed from the left to win the nomination. (I'm referring, of course, to the actual left, not the performative left, which is chock-full of people who will loudly champion progressive values as long as they're not expected to, you know, do anything.) In response, Warren slowly changed tactics, sliding back toward the center little by little in a bid to thread the needle between Sanders and Biden.
If her delegate count (9) is any indication, Warren's fence-sitting did her no favors. Moderates still think she's too far left, and leftists won't vote for someone who not only abandoned policies like Medicare For All and canceling student debt the moment her poll numbers started slipping, but is now actively attempting to undermine those same policies in the hopes that it will harm Sanders' momentum enough to give her a shot at a brokered convention. Warren has gone full Hillary: her campaign is now cynically claiming that misogyny is the driving force behind the growing calls for her to bow out of the race, and that feminism is why she's staying in (and, in doing so, boosting the chances of Mike Bloomberg and Joe Biden, neither of whom could be called a champion for women's rights). The longer she stays in, the more damage she does, both to her reputation as a so-called progressive and to our chances of seeing an actual progressive in office.
In the meantime, despite the litany of red flags on his resume, Joe Biden has managed to remain viable going into Super Tuesday. Recent endorsements from Buttigieg, Klobuchar, and Beto O'Rourke (remember him? Me neither) signal that the Democratic establishment is once again beginning to coalesce behind a supremely flawed candidate who does not stand a chance against Donald Trump in a general election. Consider this: in 2016, Trump's opponent was a not-particularly-likable lifelong politician who used wonkishness to compensate for a glaring lack of charisma, and Trump mopped the floor with her.
Joe Biden may be more likable than Hillary, but that's a pretty low bar to clear; besides, Biden's had a surprising number of peevish exchanges with voters on the campaign trail this year. His famous charm seems to have been replaced with a sort of blank geniality, the kind you might see from a grandparent who smiles silently at everyone, hoping nobody will notice that they're not quite as sharp as they used to be. (This is not to say that Trump's any better, but he does a much better job of papering over his cognitive decline and overall stupidity with bluster and catchphrases.) To make matters worse, Biden can't even rely on wonkishness to draw a distinction between himself and Trump the way Hillary could. It's entirely possible that this tweet could become a reality: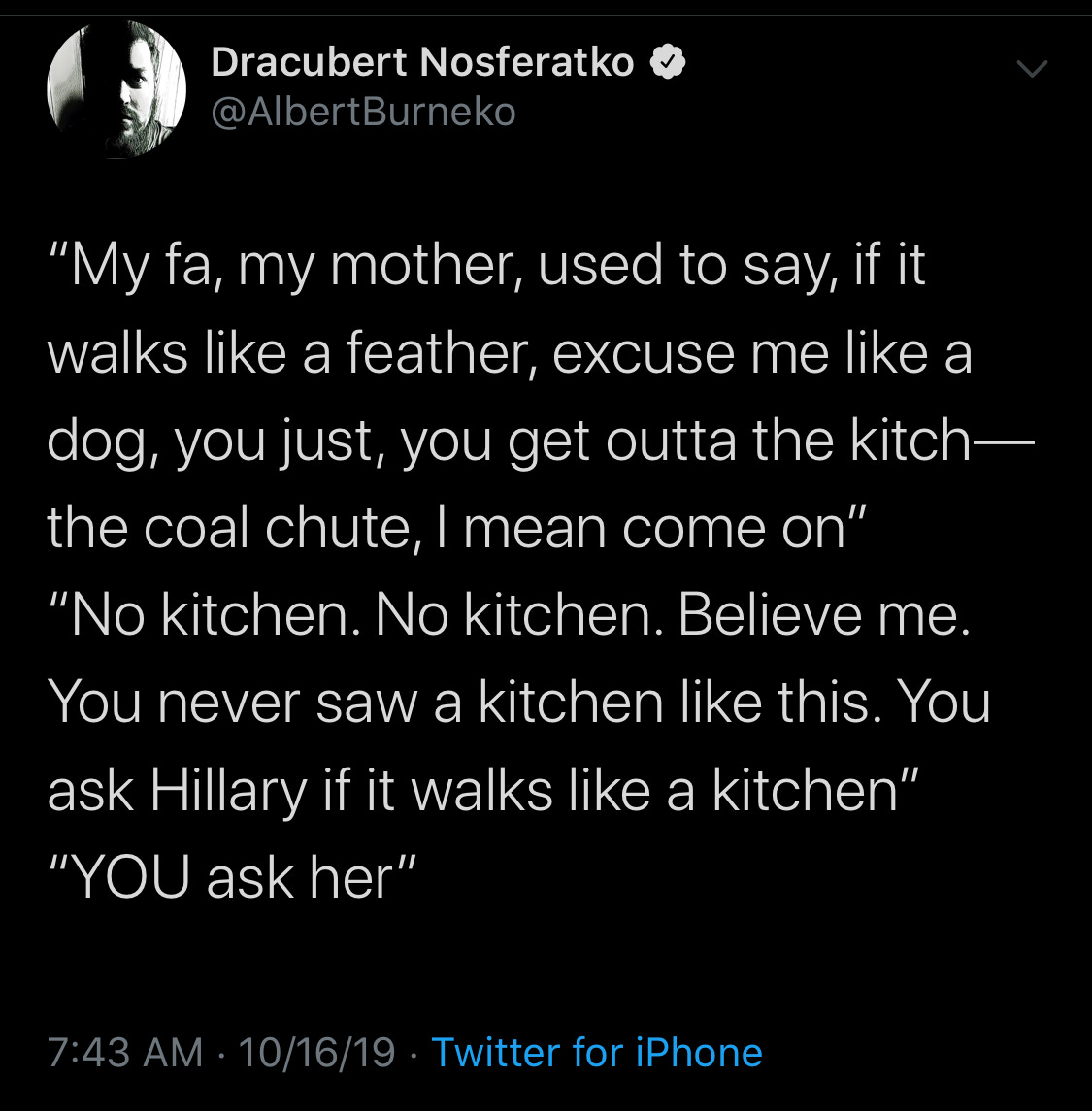 Trump has already given us a sneak preview of how he plans to debate Mike Bloomberg, and it involves (I'm not kidding) crouching down so low that his head is barely visible over the top of the podium. Elizabeth Warren? Simple: she lied about being Native American, she was a Republican until 1996, and she backtracked from all her policy positions during the primary.
Yet for some reason, each of these candidates is believed to be legitimately capable of beating Donald Trump. Or, at least, each of these candidates is being convincingly packaged and presented to us as being capable of beating Donald Trump by a Democratic establishment that would rather lose in November than cede control of their party to a Democratic Socialist. Elizabeth Warren is like Bernie but nicer and won't make your taxes go up! Mike Bloomberg is the businessman-in-chief we need (source: Bloomberg.com)! Joe Biden can work across the aisle to get things done!
In truth, only one candidate has a prayer of beating Donald Trump in November: Bernie Sanders. Nobody inspires people the way Bernie does. And it's not because it's a cult or because "Bernie is just like Trump"; in fact, I'd wager that most of Bernie's most ardent supporters recognize that Bernie is, to put it mildly, a rather prickly fellow. The people who support him do so because they're not interested in having a beer with the candidates, because they can't afford to care about frivolous nonsense like that. They're focused on staying out of poverty, on avoiding a financially ruinous medical bill, on making it to their next payday just so they have enough money to keep going.
Today, some guy on Twitter argued that anyone calling on Elizabeth Warren to drop out is a sexist, and that people shouldn't support their candidate by dumping on other people's candidates. It's an absurd argument, but what I found most jarring was the assumption that the people calling for Warren to drop out are doing so to benefit Bernie Sanders, the candidate.
It's not about Bernie; it never has been. Bernie's just a symbol.
People support Bernie because of what he represents: a willingness to fight for a society where everyone does a little bit more to help the most vulnerable among us. A society that doesn't consign you to the trash heap just because you're not born into money. A society that doesn't impose limits on or barriers to human dignity. A society designed to do the most good, not to limit and isolate the bad. Bernie represents what we want to see from our elected officials: a clear set of morals and an unwavering commitment to bringing them to bear. A willingness to fight these battles, even the losing ones, because even if they don't go your way this time, fighting them makes it easier for the next person. And above all, a sense of outrage that in the so-called greatest country on Earth, the dignity and agency of working-class and impoverished people are, at best, an afterthought to those best positioned to do something about it. Every candidate knows how to cluck sympathetically and insist that we're gonna do something about that, but no one besides Bernie Sanders actually makes me feel as though he is going to do something about that or, at the very least, fight tooth and nail on behalf of those who can't fight for themselves. If Bernie weren't in the race, maybe it wouldn't matter as much. Maybe I'd be more comfortable accepting the "better things aren't possible" rhetoric that every other candidate has been trotting out. But he is in the race.
Imagine you had a flat tire and two people showed up. One has a jack and a spare and says "I'll help you"; the other is empty-handed, says they'd love to help but they can already tell the incline's gonna make it really tricky (if not impossible) to put a spare on, and besides, they just finished building a walkway that goes right to the nearest service station, so you only have to walk half as far as you would have before. Which offer would you take? And even if you have AAA, wouldn't it be great if everyone who couldn't afford roadside assistance had a guy like that lending a hand?
Establishment Democrats are trying to sell you on the idea that the second person—the one with the new walkway—is the best we can do. 2020 is not our opportunity to get a do-over for 2016. A centrist like Biden isn't going to make a difference. All he'll do is make you feel like it's okay to stop paying attention again. And the GOP is depending on that.
The GOP is depending on you to settle, to preemptively surrender to what you assume will be their demands. They are depending on your fear of what they might do to override your expectations of what Democrats should do. They need you to be frightened of them, because that fear is how they get you to accept ever-more-feeble attempts at opposition from Democrats.
They are depending on you to give an inch to save a foot, to keep doing it until there are no inches left to give and all that's left behind you is the abyss. They're happy to do this an inch at a time; in fact, they prefer it that way. They don't want us to notice how close we are to going over the edge, because then we might push back too hard, and they might not be able to withstand it.
Establishment Democrats like Biden and Nancy Pelosi are convinced that the way back is by reclaiming one inch at a time. But it's not, because the GOP will only cede enough inches to give you hope, to fool you into thinking you're making progress so you don't realize how far away you are from where you started. They succeed by keeping you playing their game, and their game is designed to ensure we'll never stray too far from the abyss.
The way back is by reclaiming a foot at a time, then a yard, then a mile. By forgetting everything we think we know about what is possible and what isn't. Doing that means refusing to accept minor defeats. It means expecting more than is reasonable, and if those unreasonable expectations aren't met, raising hell. Raise hell every time, until what was once outlandish is now realistic. To get back a foot, you have to demand a yard; a yard, a mile; a mile, ten miles. 
We know how this game ends—it's just a matter of how long it takes for us to get there. The only way to win is if we stop playing by their rules and start playing by our own, and Bernie Sanders represents our best opportunity in a long time to do so.
I hope we take this chance. We might not get another one.